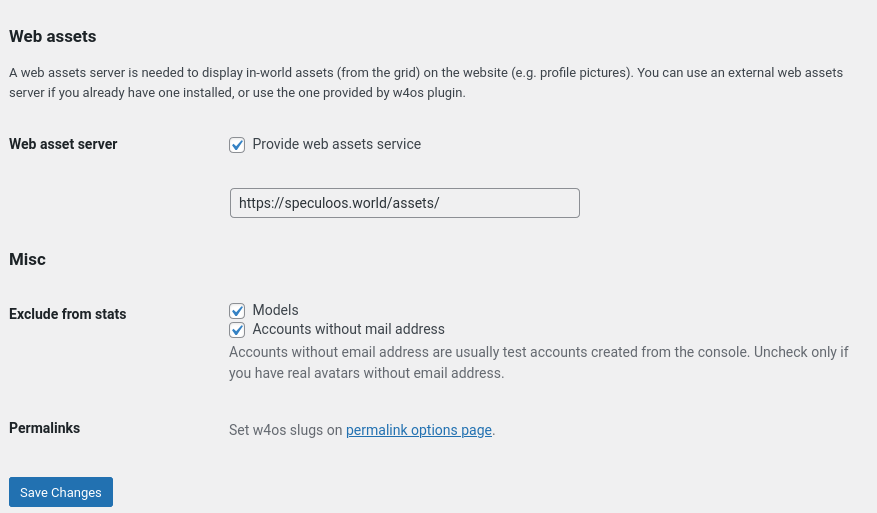 We hebben een paar spannende functies toegevoegd aan W4OS, de WordPress web interface voor OpenSimulator, en ze zijn nu beschikbaar om te testen in de GitHub repository. Wij stellen uw feedback op prijs voordat wij een nieuwe release naar de WordPress directory sturen.
Nieuwe interne web assets server: het is niet meer nodig om een web assets server te installeren (maar het is nog steeds een optie)
Nieuwe sidebar widgets en blokken Grid info, Grid status en Grid profiel
Automatische grid info fetch: grid details worden opgehaald van de Robust server, zodra een login URI is ingesteld. Indien niet ingesteld, probeert de plugin ook te detecteren of een lokaal netwerk draait op poort 8002
Toon avatar profielfoto als WordPress profielfoto indien aanwezig
Uitgebreidere rapportage over fouten bij databaseverbindingen
Dus, pak de laatste dev versie op https://github.com/GuduleLapointe/w4os/ en rapporteer elk probleem of functieverzoek op https://github.com/GuduleLapointe/w4os/issues.
BTW, we zijn uitgenodigd om over W4OS te praten op de OpenSimulator Community Conference in december, we zijn er erg enthousiast over, maar later meer hierover…